Update: Late in June 2011, Google pulled third-party reviews from its Places pages in order to emphasize reviews from Google users. They did keep a small link to other sites around the web with reviews, however, so traffic generation is still possible.
As I was checking the analytics for my sites the other day, I found a couple of visits from an odd source: Google Maps. At first, I wasn't entirely sure how it happened. But I looked into it, and the answer has some interesting implications for bloggers.

It turns out that Google is including posts from my bowling alley review blog for the Places pages for those businesses, with links back to my articles.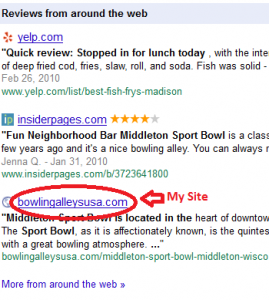 Sometime around the end of last year, Google Places began to include a section for "Reviews from Around the Web" in addition to the reviews from Google users. These are typically from large, established sites, such as Yelp and Citysearch, but it seems that anyone is eligible.
Of course, it is all done algorithmically, with the Googlebot doing its best to identify the highest quality, most relevant information about a particular place and scrape an excerpt to include on the page. Fortunately, my blog was deemed worthy of inclusion.
Increasing Importance of Local Search
Google reports that 1 out of 5 searches is related to location, and local search is making a huge impact on the search engine in general.
You've probably already noticed this. A query for a particular restaurant or store will return a map and the Places Page near the top of the organic results, and even a general, non-local search (ie. bowling alleys) will include geo-targeted results based on your actual location.
Plenty of bloggers have written about the power of Google Places, but it's usually from the perspective of the business itself, not for bloggers who write reviews. If Places continues to grow in popularity, this could be a key place for your blog to appear.
I browsed around to see which types of blogs are getting included. As previously mentioned, the majority were the larger review sites, but I did see a few free hosted Blogger blogs as well.
I went and checked locations I had written about for another blog, but they weren't included in the "Reviews from Around the Web."
If you blog about restaurants, stores, or other places, are you being included in Google Places?