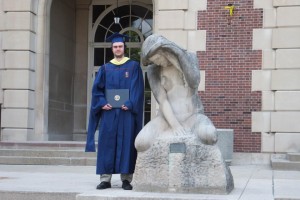 Last week I graduated from the University of Illinois Urbana-Champaign after finishing up my master's program in the Graduate School of Library and Information Science. It feels great to be finished, although I really enjoyed my time here and can hardly believe it has already come to an end!
Over my two years at GSLIS I've studied a variety of fascinating topics, ranging from community informatics and reference service to databases and information architecture. I have also been fortunate to get work experience as a graduate assistant at the U of I Main Library, and even travel to the University of Turabo in Puerto Rico this Spring to work at a variety of libraries and archives as part of GSLIS Alternative Spring Break. In addition, I've started to share some of these issues with the public through my website Social Web Q and A, and I plan to post more articles relating to information literacy and education.
Right now I'm hard at work on job applications, focusing primarily on academic reference and instruction positions. I'm really looking forward to the next chapter!