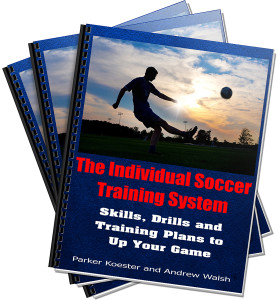 I am happy to announce that my soccer training ebook that I have been working on for quite a while is finished and up for sale.
It is titled The Individual Soccer Training System and is designed to allow soccer players to quickly hone their core technical skills and improve their soccer-specific fitness levels so they can achieve their maximum performance.
The book was published through my company Social Web Enterprises and includes skill chapters, a library of drills and conditioning exercises, and day-by-day plans that walk players through exactly what to do and when.
There is a 4-week plan and a 12-week plan so that players can benefit regardless of their time frame. Making the team, attracting the attention of coaches or simply upping your performance in your local league has never been easier.
My co-author is Parker Koester, my college soccer teammate who currently serves as head coach of the Grinnell High School boys soccer team and assistant coach of the Grinnell College men's soccer team.
For more on the book, take a look here