I'm interested in the effects of new technology on the ways we find and use information of all types. In today's increasingly connected digital age, how we construct knowledge, define expertise and find answers to our burning questions is radically shifting.
As an academic librarian, I help others locate, evaluate and use the information they need, currently at Sinclair Community College in Dayton, Ohio, where I am the Instruction and Assessment Librarian. Before that I served as an Information Literacy Fellow at the University of West Georgia, where I taught a semester-long course on college-level research and critical thinking.
Much of my writing is connected to my professional interests, including my Social Web Q and A blog. I also maintain several websites in different niches, all of which are organized under my LLC Social Web Enterprises, for which I have also provided freelance writing and consulting services. I'm also interested in researching local history.
My Background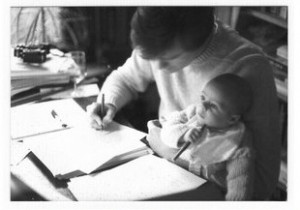 I have a Spanish degree from Grinnell College, a small liberal arts institution in Iowa. After graduation and a year spent writing, I started the master's program in library and information science at the University of Illinois Urbana-Champaign. My coursework was varied, ranging from advanced research methods to database design and computer networking.
At Illinois I worked as a graduate assistant for Reference, Research and Scholarly Services and the Literatures and Languages Library, where I taught instructional sessions for undergrads, grad students and library staff, provided research assistance both in-person and virtually, and helped manage the library's web presence.
For the past several years I have also worked part-time as a writer and webmaster. Check out my writing portfolio and experience page to see some of the work I've done.
I am especially interested in the effects of the social web on education and business, and in my blog Social Web Q and A I strive to go beyond a simple regurgitation of news and facts and dig much deeper into the background and context of these themes, as well as the social and cultural issues at stake.
If the world of the social web interests you, you can sign up for my Social Web Q and A newsletter about new content that I have written: